Shopping Basket
Your Basket is Empty
There was an error with PayPal
Click here to try again
Thank you for your business!
You should receive an order confirmation from Paypal shortly.
Exit Shopping Basket
Commercial Glass Repair & Installation
| | |
| --- | --- |
| Posted on 17 April, 2014 at 21:59 | |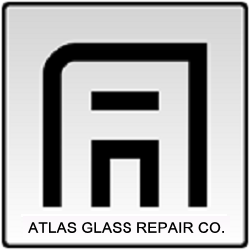 Recently we at Atlas
Glass Company in Philadelphia
did a glass repair on a couple of older wooden double-hung windows on the second floor of a house in University City in West Philadelphia. The glass in this type of window can be glazed (installed) only from the outside. So, when they are on the second floor the sash typically has to be taken out of the frame. The bottom sash can be removed fairly easy, you simply take off the outer piece of wood trim, disconnect and firmly secure the counter weights (if that counter weight slips and disappears into the wall, well... you ain't never gonna see that again, that's for sure). Then you can just lift out the sash and, weather-permitting, you can set up a curbside work table and do the repair at the location (my person choice) or run it back to the shop and do the work there.
The top sash of a double hung set of windows is another story completely. To get the sash out of the frame literally takes hours to accomplish (the last time I actually did one was at the Barclay on Rittenhouse Square around fifteen years ago and it was one of nastiest, hardest, finder-tip crushing jobs I have done since I've owned a glass company in Philadelphia -never again, my friend). At our glass company we either do them "in-place" on a ladder utilizing a special ladder adapter and harness so the glazier can have both hands free to work, or my particular favorite - strapped in with a safety harness and hanging out the lower half of the window. As you can imagine, hanging out the window at a bad angle and chiseling away at rock-hard
glazing putty
is a little rough on the back, neck and shoulders. It's a tough job but at Atlas Glass Company in Philadelphia we can handle it. And by "we" I really "me" because I'm the one who does this type of repair ninety-nine percent of the time.
This type of wood double-hung window is known at
glass companies in Philadelphia
as a "hackout" - because you have to hackout the old glazing putty with a hammer and chisel. Doing this with the window sash laying flat on a work table is a fairly mundane and routine job. Doing it while standing (or hanging) at an awkward angle, or balancing on a ladder, can be quite an ordeal. 
It is a particularly labor-intense type of window repair. For this reason many glass companies in Philadelphia tend to run from this type of glass repair. A small one - say twenty-four by twenty-four inches - can easily take two to three hours.
As I mentioned earlier, these were second-floor upper-set window sashes done "in-place". One, however, overlooked the first floor porch and could be done standing on that. No such luck with the second one in the rear of the house, and it was too high for the ladder, so a safety harness and hanging out the window it had to be.
First I removed the broken glass (deglazed). Once that was done came the chiseling out of the old glazing putty. In older houses the glazing putty is as old as one-hundred years and has the consistency of concrete. Doing this "in-place" is truly grueling, messy, time-consuming work. All of the existing putty has to be removed, and I mean all of it, right down to the wood. Extra care has to be taken to scrape out any trace of glazing putty in the corners of the window sash where the glass is most vulnerable to pressure.
Once I had all the old glazing putty out I took my measurements for the new glass. Another tricky aspect of repairing these types of windows is that fact that the tolerances are so small. Generally you have about an eighth-of-an-inch of trim on each side to set the glass on. Which means on a thirty inch opening, you have to cut the glass at twenty-nine and fifteen-sixteenth inches. That is not a lot a leeway. Also consider that a hundred year-old wood window can easily be slightly out of square.
I cut the glass to size, test fit it once into the opening, then put it aside so I could lay a thin bead of glazing putty onto the sash where the new glass window rest against it. Now I was ready to install the glass into the opening. I snugged the glass into the sash, giving it a just a little "love" to get it in place. then installed a series of steel glazing points (tacks) into the sash to hold the glass in place until the putty dries. I was then ready to put on the final outside bead of glazing putty. I shot that on with caulk gun, smoothed it with a six-inch wide putty knife and that's all she wrote.
Piece of cake, eh?
Atlas Glass Repair Company
A Family-Owned & Family-Operated Philadelphia Glass Company
Categories: Glass Company in Philadelphia pa, Glass Repair In Philadelphia, Pa
/