Shopping Basket
Your Basket is Empty
There was an error with PayPal
Click here to try again
Thank you for your business!
You should receive an order confirmation from Paypal shortly.
Exit Shopping Basket
Commercial Glass Repair & Installation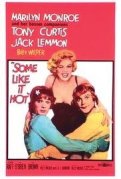 Directed by:
Billy Wilder
Screenplay by: Billy Wilder, I.A.L. Diamond
Voted the
American Film Institute
's #1 Greatest Comedy Of All-Time and the #22 Greatest Movie Of All-Time, and deservedly so. This is one funny movie. It's a late-night staple so the Glass Dude catches it whenever he can. We have a copy of it (VHS) at the
glass repair
shop we work at but it never quite seems to make it into the rotation - too many young bucks who aren't interested in black & white films (fools). 
Note: This list of top ten quotes comes with serious caveat: Many of the best quotes of the movie are part of a witty repartee, and the Glass Dude only deals in one-liners (as does the American Film Institute). Still, there's some great quotes in the movies. 
* "You won't breathe nothin' - not even air." - Spats Colombo
* "Will you look at that! Look how she moves! It's like Jell-O on springs". - Jerry
* "Pull in your reel, Mr. Fielding, you're barking up the wrong fish!" - Jerry
* "Some say he'll go far... Some say he's ALREADY GONE TOO FAR!" - Little Bonaparte
* "There was something in that cake that didn't agree with him." - Little Bonaparte
* "I wanna be loved by you, just you, nobody else but you. I wanna be loved by you alo-o-one. Boop boop e doo." - Sugar
* "I heard a very sad story about a girl that went to Bryn Mawr. She squealed on her roommate... and they found her strangled with her own brazier!" - Joe
* "All right, driver, once around the park, slowly, and keep your eyes on the road." - Osgood
* "In da lass fissal year we made a hundred an' twelve million dollars before taxes... only we didn't pay no taxes!" - Little Bonaparte
* "Well, nobody's perfect!" - Osgood (American Film Institute's #28 Greatest Movie Quote
How Tony Curtis didn't get at least an Oscar nomination for his brilliant (and hillarious) portrayal of three separate characters boggles the mind. "Well, nobody's perfect" may just well be the greatest closing line of any type of movie - comedy or not.
Useless Trivia: Marilyn Monroe was pregnant during the filming and was noticably heavy than usual; The character of Spats Colombo was loosely based on Al Capone; The gorgeous hotel scenes were filmed at the Hotel Del Coronado Resort near San Diego, California.
Tags: Some like it hot; Some like it hot movie; Some like it hot trivia; American Film institute, Academy Award, Marilyn Monroe
The Glass Dude Abides...

The Glass Dude c/o
2000 Hamilton Street
Philadelphia, Pa 19130
215-432-8487
/