Shopping Basket
Your Basket is Empty
There was an error with PayPal
Click here to try again
Thank you for your business!
You should receive an order confirmation from Paypal shortly.
Exit Shopping Basket
Commercial Glass Repair & Installation
LA Confidential
- Is That How YOU Ran the Good Cop, Bad Cop? Ten Best Quotes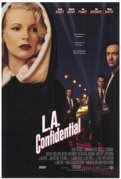 Released: 1997
The Glass Dude can't get enough of this flick. It works on so very many levels. And it has direct bloodlines to one of my favorite movies,
Chinatown
, and my all-time favorite author,
Raymond Chandler
(
The Big Sleep
,
The Long Goodbye
, etc...). At the
glass repair
shop were I work this gets screened at least once every two weeks. Winner of two Academy Awards. A big, big shout out to James Ellroy for his book and Brian Helgeland and Curtis Hanson for thier script. Such great dialogue...
* "Off the record, on the QT, and very hush, hush." - Sid Hudgens
* "Are you asking me for a date or an appointment? - Lynn Bracken
* "... The great jerk-off case of 1953!" - Jack Vincennes
* "Go back to Jersey, Sonny. This is the City Of Angels and you haven't got any wings." - Captain Dudley Smith
* "You want an autograph? Write to MGM." Johnny Stompanato
* "A hooker cut to look like Lana Turner is still a hooker." Edmund Exley
* "Oh, great. You get the girl, I get the coroner." Jack Vincennes
* "Is that how YOU used to run the good cop/bad cop?" - Edmund Exley
* "Have you a valadiction, Boy-yo? - Captain Dudley Smith
* "Maybe that's why he's under a house in Elysian Park and he don't smell too good..." - Bud White
* "I wouldn't trade places with Edmund Exely for all the whiskey in Ireland." - Captain Smith
If not for the misfortune of sharing the same release year as Titanic, it would almost certainly been an Academy Award Winner for Best Picture (among other catagories)
Useless Trivia: Described by James Ellroy (novel) as the "mother" of all screen-adaptations, the movie has 40 actual locations and 75+ speaking parts; The film uses several real life criminals as a backdrop to the the story (Mickey Cohen & Johnny Stompanato); 
Tags: LA Confidential; L.A. Confidential; LA Confidential movie quotes; Best quotes LA Confidential; Is this how you ran the good cop, bad cop?; LA Confidential movie; Academy Award; James Ellroy; American Film Institute;

The Glass Dude c/o:
2000 Hamilton Street
Philadelphia, Pa 19130
215-432-8487
/